We're pleased to announce another milestone for VHF with the expansion of our project to two new schools in Kenya and the Philippines! In May and June 2018, we visited the Kibera Calvary School in Kenya and the City Gates Academy in Antipolo, Philippines. VHF donated a total of four computers to Kibera Calvary. These students never had computers in their schools and VHF was instrumental in making sure that they are able to learn how to use basic Microsoft applications including Word, Excel and PowerPoint, and being able to research using the Internet. At the moment, VHF is in the process of subscribing to internet connectivity for the Kibera Calvary school. We thank our partners, Steve and Julie Blau of Mclean Bible Church of Virginia who facilitated the delivery of computers to Kibera Calvary.
Also, a special thanks to our partner, Atlanta Montego Bay Sister Cities for connecting us with the City Gates Academy. VHF City Gate Academy project in Antipolo, Philippines was a fun project. Every project has its challenges and rewards, but this project was particularly successful due to the collaborative team work from the outset. In total, VHF installed five computers and configured Wi-Fi for wireless access.  In a few months, we will deploy five more computers to equip the computer which will allow both students and the general public to access computer and internet services. Our gratitude to Pastor Glenn and his team for the wonderful hospitality.
VHF looks forward to educational outcomes for these two projects. We again thank our donors for their continued support of all of our initiatives.
T​hanks to all our donors, and sponsors whose continuous support has made it possible for us to provide technology access to schools in developing countries, and the inner cities. Once again, your donations have allowed us to provide computers and Internet connectivity to another school, the Mwanamangala Primary School in Mazabuka, Zambia. As you know, Advancing Education through Technology is our mission and your support has been invaluable in making this possible.
​
VHF adopted the Mwanamangala Primary School with the goal of supporting the construction of new classrooms, Library and a computer lab. Like many schools in developing countries, the children in Mazabuka live in a marginalized sector of their society; with little access to quality education due to tremendous obstacles they face including extreme poverty, limited resources and poor infrastructure, all factors that make quality education out of reach. VHF believes strongly that all children must have every opportunity to survive and thrive in their learning.
 A successful completion of another project in Abuja, Nigeria at Government Day Secondary School Wuse, ABuja. VHF donated 5 computers with high speed Internet. The principal, Mr. Joseph Akor, was joined by several other school board members including Mr. Kemnele Donatus (Deputy Director, Science Technology & Mathematics), Adamu Baba (Deputy Director, School Services), and Mrs. Maryam B. Hassan (Director of Secondary Education Board) in graciously receiving the donations. It was truly an amazing time!
These students now have valuable learning tools that will enhance their education and adequately prepare them for the future! To date, VHF has donated over 100 computers with high speed Internet to schools all over the developing world, helping them achieve and succeed.
If you believe that what we do is important and has a positive impact, please consider making a tax deductible financial donation (Connect2empower.org). Every donation counts. Thank you for your continuous support! We couldn't have done it without you!
VHF, in partnership with the Atlanta Montego Sisters Cities Committee (AMBSCC), donated a total of five iMac computers and five PCs and high speed internet access to the students of William Knibb Memorial High School and Goodwill Primary & Infant School in Trelawny and Montego Bay respectively.
VHF is proud to support a youth program in South Africa by I Am, We Are (IAWA), a non-profit dedicated to creating a world where all youth are socially engaged, globally aware, and economically free.
​At the launching of its program in South Africa in 2015, IAWA ambassadors delivered their program without sufficient access to computers and the internet to complete assigned projects.
​When approached by the Founder and Director, Meisha Robinson, VHF thought is was yet another opportunity to help the youths in the developing world to unlock their potential and empower them by enhancing their knowledge and skills through the use of technology.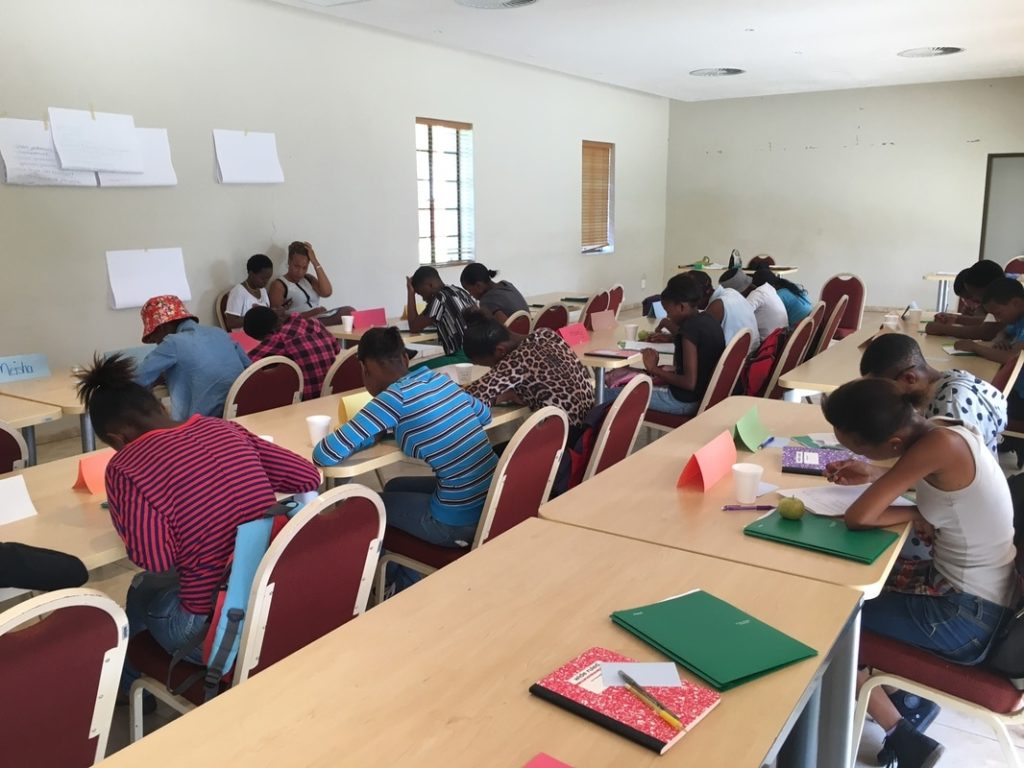 VHF visited the Huis'T Dieren Primary School in Essequibo Coast, Guyana South America and donated computers and Internet access. Upon arrival, our team was welcomed with open arms by the Principal, staff and students of the school. We received a tour of the facilities, and had an inspiring welcome program full of speeches, poems and performances. It made us excited and humbled to be able to bring educational tools to these exceptional and bright students. With the computers donated from VHF, these students, who already have a solid foundation, will further their talents and education. "We are so honored and privileged to play a role in their educational development"
-Macfarlane Okonta, President Victoria House Foundation.
"Mr MacFarlane Okonta, look what you have made possible. I teach practically any subject in this IT lab. Subject integration is vital in the learning process…"
-Martin Samaroo, teacher at Huis'T Dieren Elementary School Essequibo Coast, Guyana.
"Thanks a million to Victoria House Foundation. Our school is the most fortunate one in Guyana which has benefited from this organization. Our kids are making ample use of information technology. Cheers to Mr MacFarlane Okonta."
-Waneta Hunt, Teacher at Huis'T Dieren Elementary School Essequibo Coast, Guyana.
Philanthropy work and services are more important during a crisis than ever. Social distancing does not mean social isolation. We're all in this together! At VHF we are doing our part to contribute to the common good so that when this crisis is over, we will be proud of how we came together to keep our young people and communities thriving. We followed guidelines and restrictions set by the local health agency in Nigeria for staying safe during
this unprecedented period. Bravo to
#VHFteamNaija
for the completion of yet another successful project!!VHF and Plateau State Association (PSA), partnered-up with the Plateau State Governor's office to provide Internet access and computers to four public schools in the remote part of the State. Along with the Plateau State Governor's office and PSA, VHF spearheaded the donation of Internet connectivity and computers to Government Secondary School Shendam, Government Secondary School Nyak, Science School Kuru and Girls Secondary School Bokkos. During the installation and presentation of the computers, it was exciting to see the reaction of students at all four schools as they sit in front of the computers with Internet connectivity. None of these schools had a computer or Internet access on campus. For the very first time, these students will now have access to computers and Internet to research and complete projects for school work. Students will learn basic computers skills necessary to compete in the global workforce. Each computer is loaded with applications such as Office 2016 Professional edition to help students learn how to use Microsoft Word, Excel and PowerPoint. A total of 30 PCs with 2 iMac computers were donated to the schools. An additional 10 computers will be donated to two of the four schools by the summer of 2021,
Many thanks to our donors for their continuous support. We also want to thank PSA and Dr. Macham for engaging the Plateau State Governor's office which made the project a huge success!