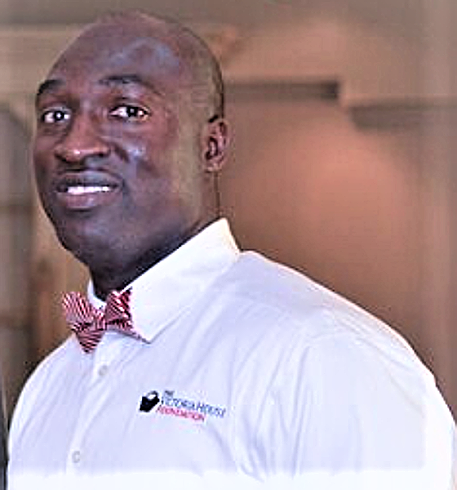 MacFarlane Okonta
Founder, President & CEO
Skills :

Systems Engineer
About Me
Macfarlane Okonta is the Founder and President of the Victoria House Foundation (VHF). His belief and desire have always been to pursue a better life through the continual development and acquisition of information technology skills, and being able to bring aid to those who need it the most. Throughout his career, Macfarlane has worked across Information Technology and charity organizations as a Network Engineer. In 2007, he founded Razon Technologies to provide IT services to businesses and individuals in the Washington, D.C. metro area. Approximately a year after the inception of the company, Macfarlane volunteered his professional services for the church which he attended. His tasks included building a network for the administrative offices of the church and maintaining both the user and network environments. As time progressed, Macfarlane assessed and repaired various customers' computers for minimal costs, and sometimes at no cost, depending on client circumstances. It was during this period that the idea of creating a charity was born.
In January of 2009, after the passing of his mother, Macfarlane decided to dissolve Razon Technologies and dedicate his efforts and time to a new professional endeavor; a technology-focused and charitable organization named in honor of his mother, Victoria. The idea of working with disadvantaged public school systems emerged in 2011, following a trip to Lagos, Nigeria in December of the same year. While in Lagos, Macfarlane had the opportunity to meet with a principal from a local public school. During the meeting, he was saddened to see, first-hand, the dire circumstances of the public school and the lack of adequate technological resources for learning. After this meeting, Macfarlane immediately knew that his calling would be to provide assistance to schools that were critically lacking fundamental resources. Most of the public schools in Lagos cannot boast of one single computer or internet access, and some schools have but only a couple to accommodate a large number of students. Macfarlane founded VHF to help develop education through technology.
Macfarlane received a Bachelor of Arts degree from Virginia Wesleyan College in Computer Science and Business, and his Masters in Cyber Security from the University of Maryland University College. He is also a Microsoft Certified Systems Engineer and a Cisco Certified Network Associate. He lives with his wife Rashida, daughter Ariela, and son Remy, in the suburbs of Washington, D.C.